Alaskan Halibut Fishing
It's not often you hear mention of Alaska without someone talking about the tasty flaky Halibut they ate or the giant barn door they reeled in while on their Alaskan Adventure. Halibut rank right up there with Salmon at the top of each of our guest's bucket lists. Halibut migrate into the surrounding waters to forage during the summer months making the Kenai Peninsula one of the best places on earth to chase these fish. Each port has its own little niche in the Halibut world, some "better" than others, but regardless of where you go out of the experience will not be soon forgotten. Whether you want to be the hit of the block party fish fry or just want to test your strength when doing battle with these tasty critters, halibut fishing should be part of everyone's trip with ACE Fishing Adventures.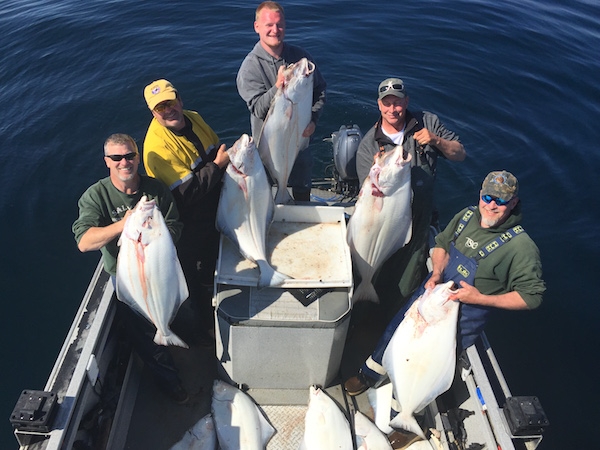 Our Halibut Fishing Guides
Our Captains have been chasing these fish since they were old enough to walk, they have the spots dialed and know exactly which one to hit on any given day, tide, or weather pattern. That in itself makes all the difference in being successful or not day in and day out. Our large comfortable boats seat 6 passengers, all are equipped with the top-of-the-line gear needed for a productive day on the water. Our Captains love what they do and it shows, getting you out and back from the grounds safely and filling those fish boxes with tender flaky white fillets of Halibut is what we all strive to do here at ACE Fishing Adventures.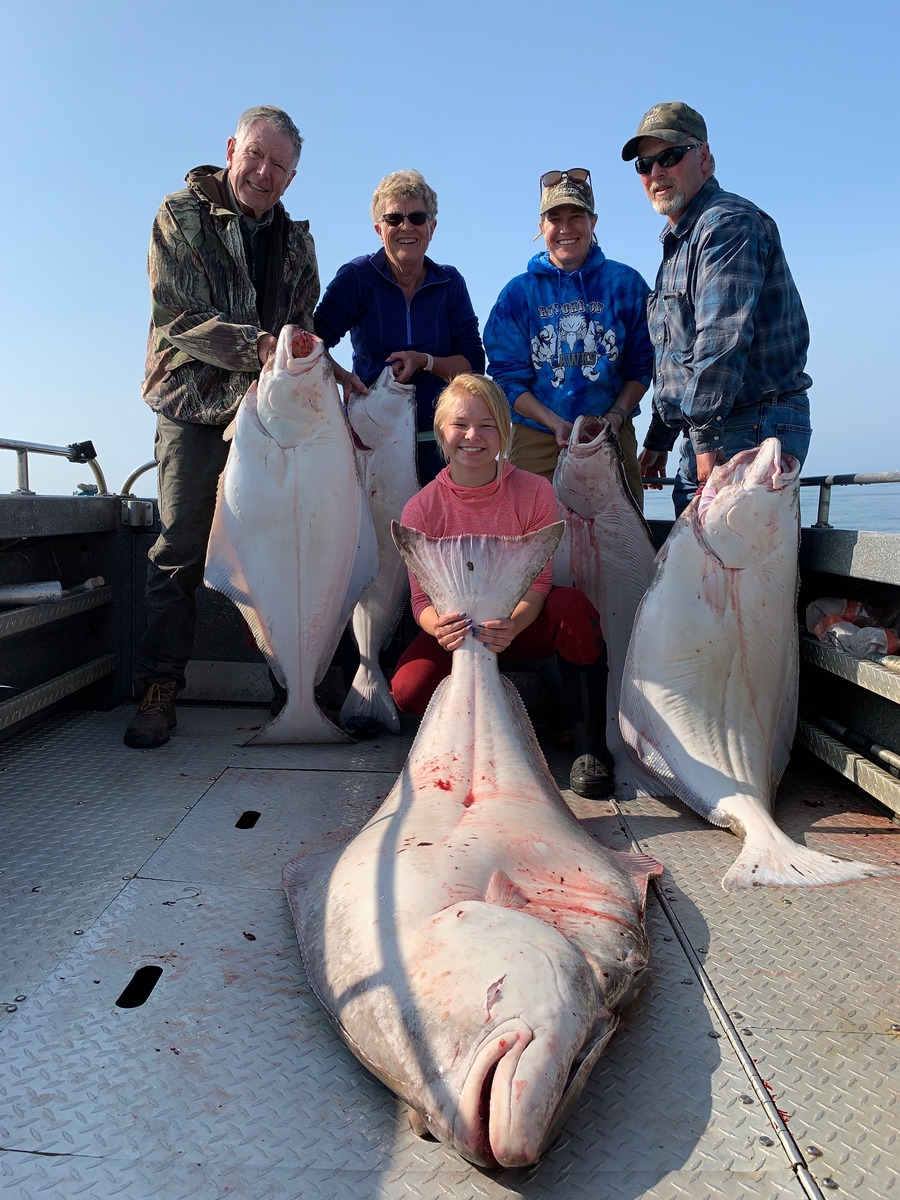 Alaska Halibut fishing in Cook Inlet
Cook Inlet stretches 180 miles from the Gulf of Alaska to Anchorage and into the Knick and Turnagain arms. A turbulent, muddy inlet with the world's second-largest tide moving roughly 42 feet of water in a 6 hour period, is home to the best Halibut fishing Alaska has to offer. For the most part, fishing lies in the southern half of the inlet, from an area called Deep Creek south to the gulf. Deep Creek is located in the quaint little village of Ninilchik and is one of the main launching points we use depending upon the season. Anchor Point is the other located just a few miles south of Ninilchik.
Deep Creek/Ninilchik is one of our main launches throughout the year, but we often utilize this launch more in the early season when we are chasing King Salmon along the shorelines. Equally as good as Anchor Point, it just allows us to fish more of the northern portions of the grounds quicker and more effectively.
Anchor Point is really our mainstay as far as launching locations, because of its location we are able to travel in both directions, north, and south. This aids in being able to run from the weather, tides, or target species more so than any other area allows. The flexibility of Anchor Point allows us to fish the same waters you will fish from Homer, minus about an hour or so boat ride. We are also able to reach the multi-species fishing grounds quicker than you are able to from Homer.
Fishing Cook Inlet is predominantly centered around tides, it is best fished a couple of hours prior to high or low tide. Launch times reflect this as well, one day we could fish as early as 5 am when the launches open, later that week it will be a 10 am departure. Many factors determine whether a charter is successful or not. This is where the experience of our captains pays off, knowing exactly where and when to be to provide the best fishing that day can offer. Being flexible and centrally located such as Anchor Point just aids in the success of our anglers, thus the reason we choose to fish out of this location more than any other over the course of the summer.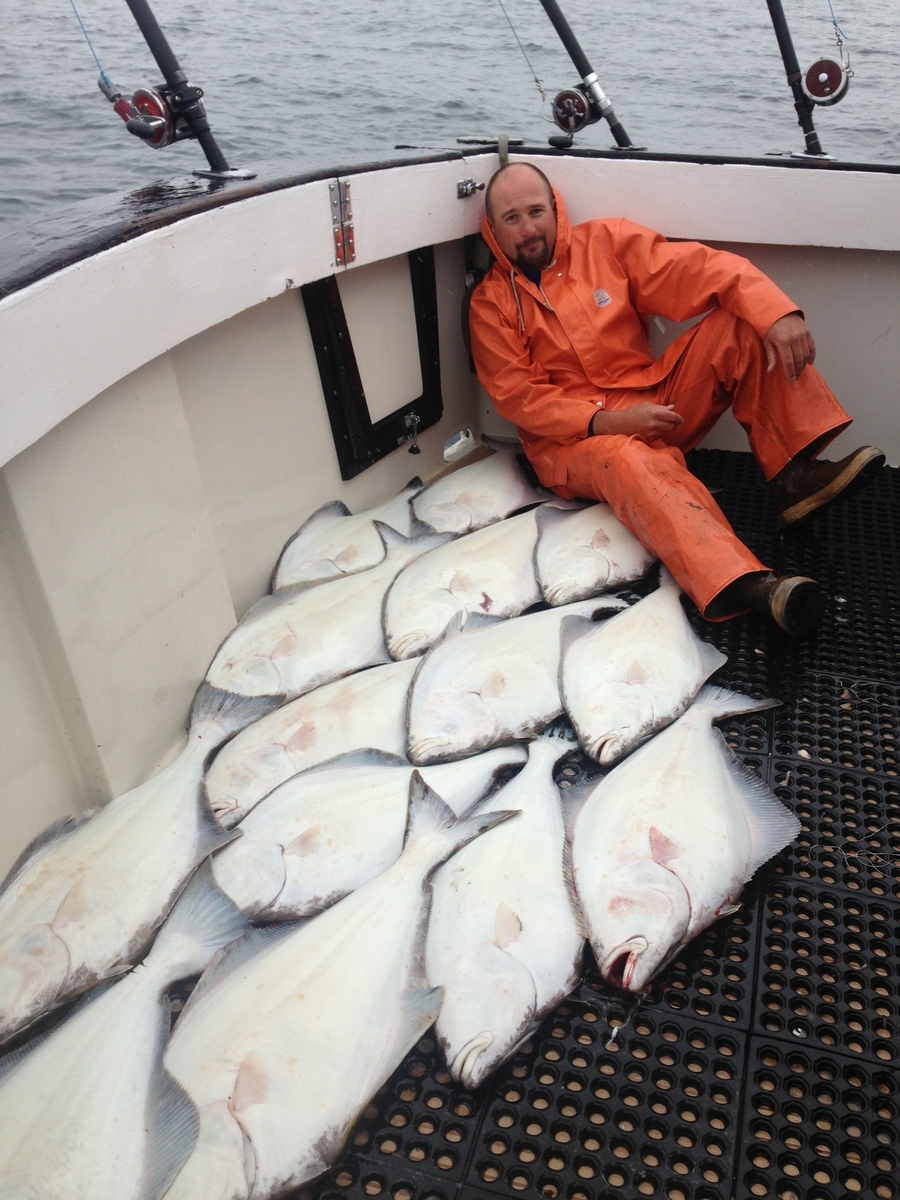 Alaska Halibut Fishing out of Homer
Homer is the proclaimed Halibut capital of the world, it is safe to say there is probably more Halibut taken out of this port than any other. With its location to the famed waters of Cook Inlet and the Gulf, Homer offers close proximity for our guests staying in the Kenai area, as well as, many options to stay right here in town. Homer is home to a large fleet of sportfishing and commercial boats, not to mention the home port of some of the famous crab boats you see on TV. Many anglers choose to take part in the annual halibut derby the town puts on, and if you're lucky you may latch into a big 300 lbs that could land you upwards of $30,000. A drawback of Homer is the length of the run needed to get to the productive grounds, while you can find a fish just outside of the harbor the best fishing is further out into the inlet and gulf waters.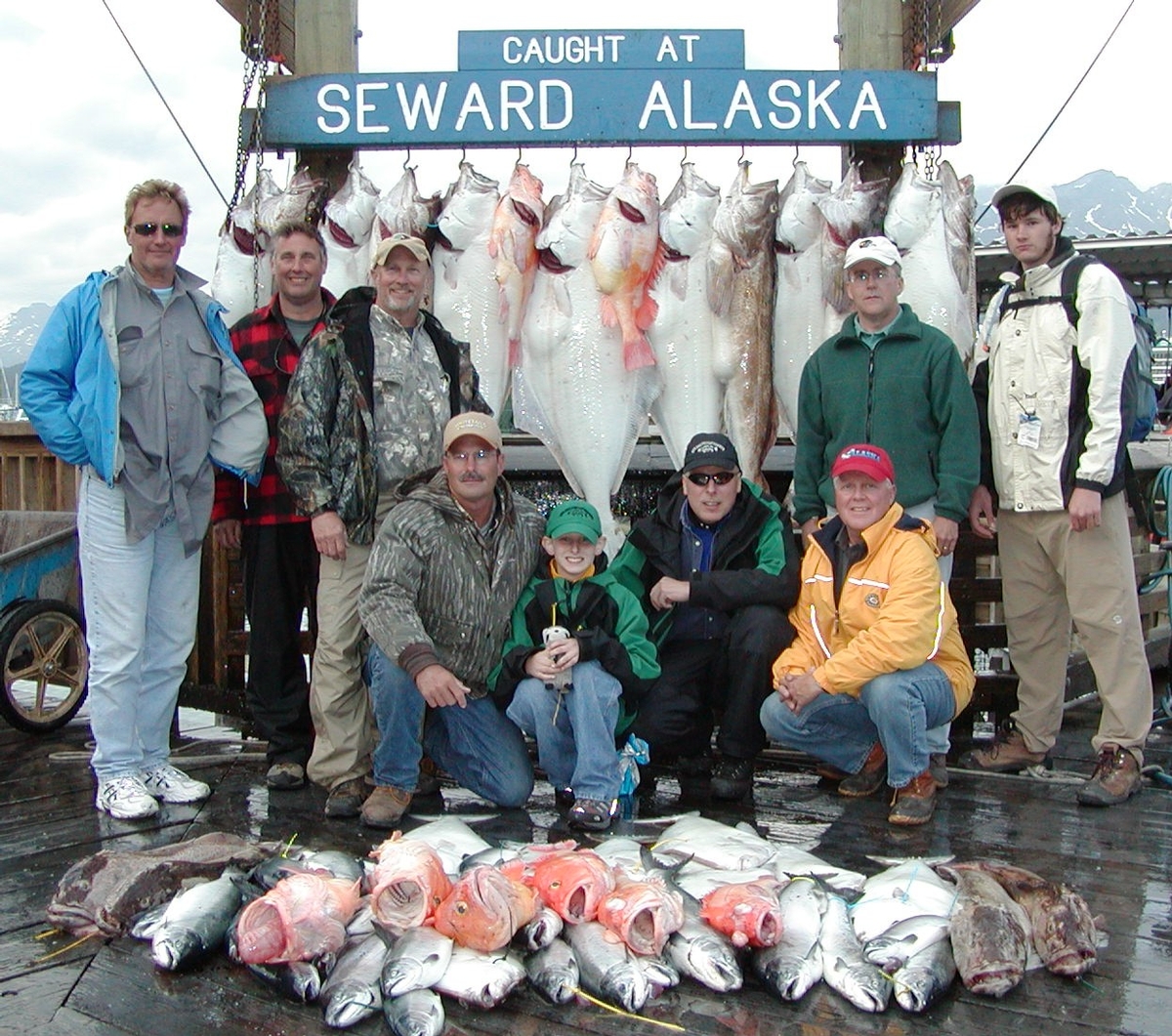 Alaska Halibut fishing in Seward
Seward is a major destination point for ocean anglers. Breathtaking vistas from town, Seward is nestled at the head of Resurrection Bay, a popular port of call for cruise ships and the gateway to Kenai Fjords National Park. A popular stop for those wishing to partake in wildlife and glacier cruises Seward offers abundant lodging options, a glacier you can walk right up to, and some of the finest dining in all of Alaska, all of which makes for a popular multi-day destination. If you plan your vacation to be around for the 4th of July you can watch runners competing in the Mt. Marathon race, one of the most grueling races on the adventure running circuit tracking many top athletes from around the world. The race started off as a bar bet and has turned into one of the most attended day festivals in Alaska. On top of all that, the fishing out of Seward is top-notch. Run times to the grounds are lengthy and you are exposed to the Gulf of Alaska, yet the waters are abundant with Halibut, Ling Cod, Rockfish, and Silver Salmon thick as thieves. A true multi-specie trip can be found here during the late summer months and is a popular stop for many of our guests here at ACE Fishing Adventures.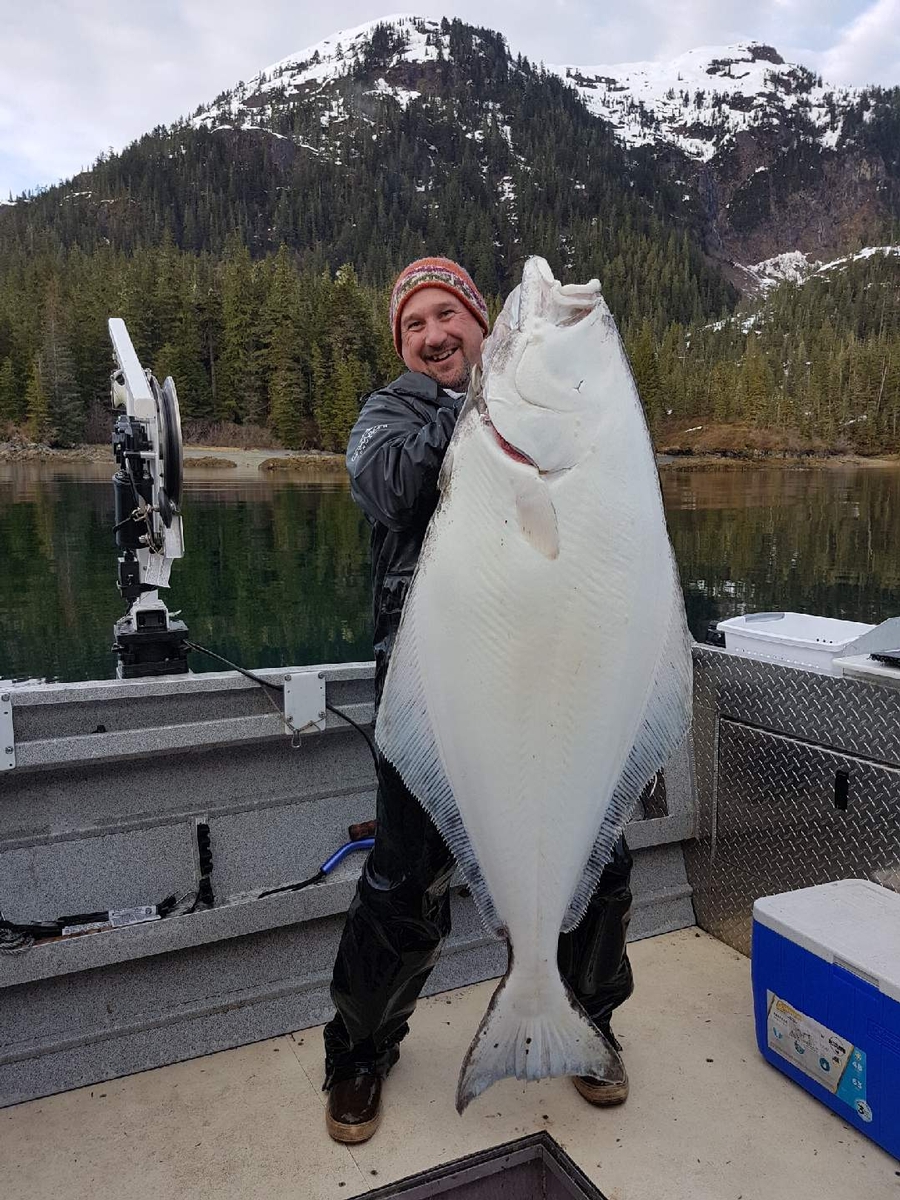 Alaskan Halibut Fishing in Prince William Sound
Targeting Halibut and other bottom fish is an experience all its own here in the sound, as they call it. PWS is best accessed out of Whittier, Alaska. You may have heard of it because of its unique tunnel that you must travel through in order to reach the town. A popular cruise ship port of call, the sleepy little town is home to just a number of residents all living in one tall tower. Nestled under giant peaks rising from the ocean floor Whittier is the gateway to PWS. One of our favorite places to visit and recreate comes with its own unique set of challenges. Scenic and beautiful it rates high on the scale, second to none views, abundant wildlife, and protected waters make for a trip like none other. What it does lack, however, is productive fishing within close proximity of the boat launch. Long runs are typical to find the most productive fishing grounds, yet the extensive travel is well worth it here. Great fishing for Halibut, Lingcod, and other Rockfish as well as trolling for salmon are some of the main reasons people choose to depart from here. Trips here are typically day trips leaving at a decent hour in the morning but typically arriving back late at night, lodging options are minimal and usually accessed by guests staying in Girdwood.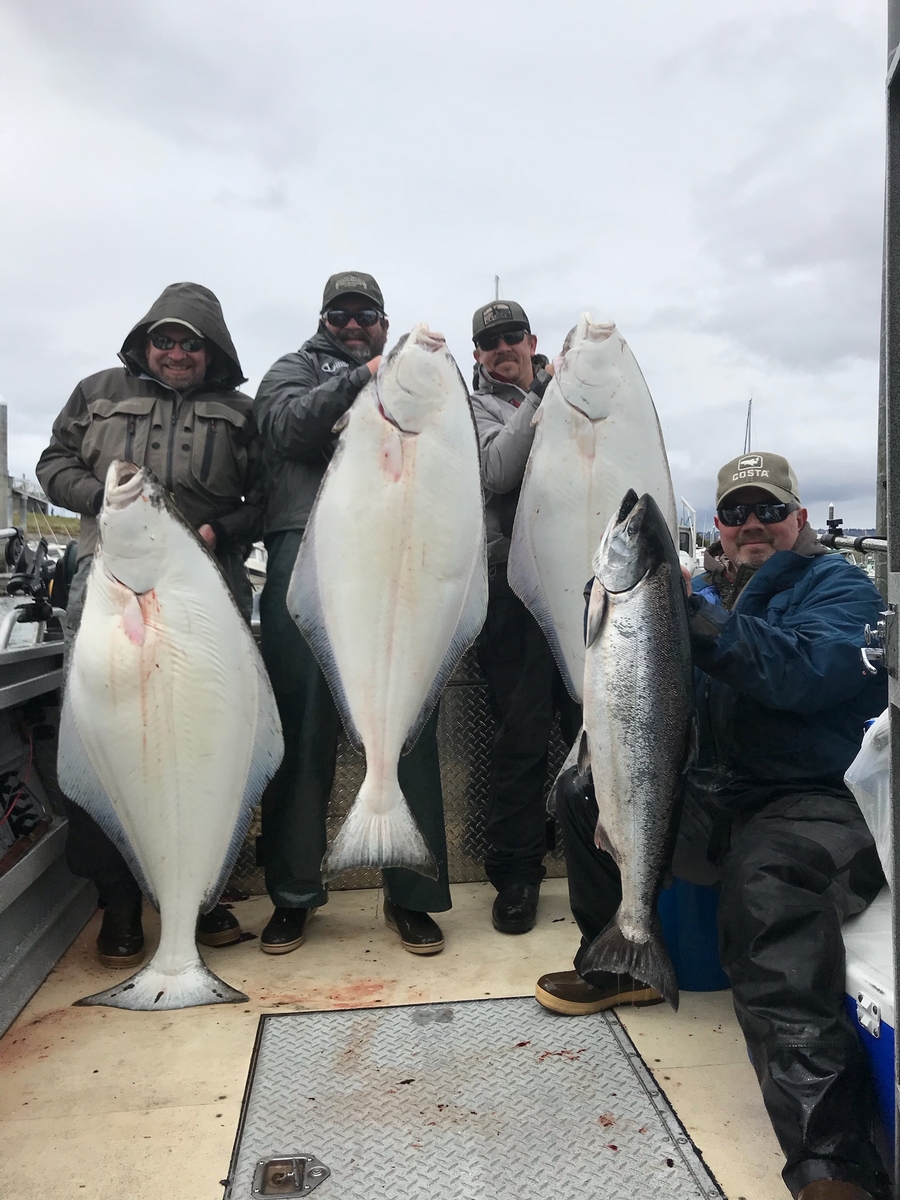 Rates & Packages
Halibut trips start at $400
All trip prices are per person and subject to availability
Trips include all top of the line equipment and tackle needed for fishing
Complimentary fish cleaning and preparation for the fish processor
50% deposit is due upon booking, the remaining balance is due 10 days prior to embarking on our first trip together
ACE Fishing Adventures does not offer a cancellation policy but you are able to rebook for any available date the following year