Other Fishing Adventures
ACE Fishing Adventures specializes in fresh and saltwater Salmon and Trout fishing in and around Kenai Alaska, however, it is far from all that we offer. We like to think that our success comes from spending countless days on the water and thus each of our captains/guides has their own little niche. Instead of spreading ourselves thin and only being mediocre at each fishing opportunity, we leave some of the other great fishing experiences to the other pros.
For instance while yes at times we do jump on a plane and help on the fly out's we have found that it is best to leave it to the guides that do that day after day. They know the latest on where to be for the best fishing, how to do it, and are rigged and ready to go that day. Halibut may seem like anyone can just drop the hook, lower the bait, and find a fish, that is far from the truth. Those hot spots can turn cold as ice if you are just feet off of your anchor mark or fishing a hole on the incorrect flow of tides. It takes much dedication for each to master their craft and the very reason we only sub-contract our "other" trips out to the very best in the business.
You can rest assured that if you are fishing with someone other than ourselves it is someone that I personally would take my very own family out with, no qualms about it.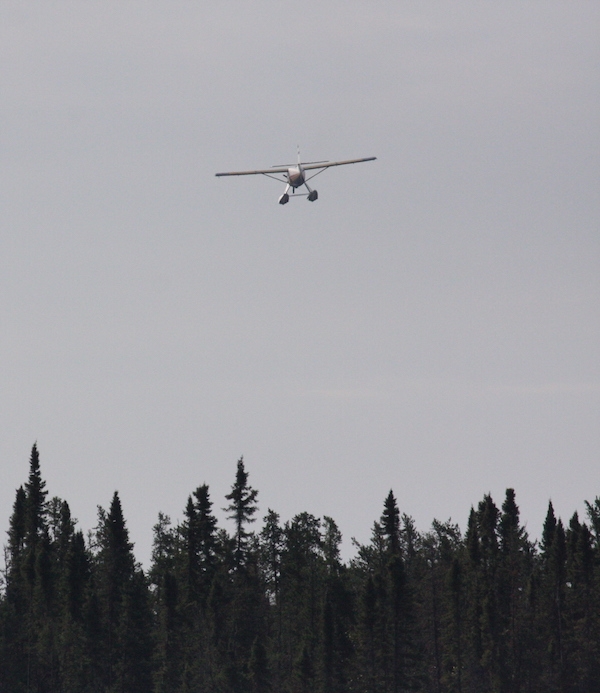 Fly Out Fishing
An iconic symbol of Alaska more so than maybe even glaciers or giant brown bears are floatplanes. they are obviously prevalent the second you touch down in Anchorage as the largest floatplane is in the world sits just feet away from the runways. It is true that at one point in time there were more people with a plane than with a driver's license. While float planes come in all shapes and sizes it's the drone of the Beaver or whine of a turbo Otter and the smell of avgas that just gets the blood pumping knowing you are in for an adventure like none other. From the take-off to the landing's everything about flying in a floatplane is worth every penny.

Here on the Kenai, we sit in a perfect area to access so many great places via plane. The opportunities are endless and really the only thing that can limit oneself is the size of their pocketbook. While these adventures are not cheap it's the areas that you are able to access and enjoy that makes it worth it all. Starting in mid-June and running well into late fall there are adventures to be had all across the area. Our most popular trips tend to be fishing for sockeye and viewing bears at Wolverine Creek and or Crescent Lake. As the summer draws on we run to silvers on the Kustatan and one of our favorites is a small little stream called the Buchatana. Each and every fly-out offers such a unique experience, be it the solitude that one feels when they hear the plane take off leaving them in the field for the day, or the mountains science tours after a day watching bears literally feet away.

There are many trips that our clients return and do year after year, and some clients just want the experience one time and call it good, whichever is the case if you have not done one you should really experience it at least once. As mentioned the opportunities are endless and range from King Salmon on the Nushagak, to grayling in the Kenai Mountains to just good old-fashioned bear viewing, if you have something in mind I am sure we can place you on the perfect fly out.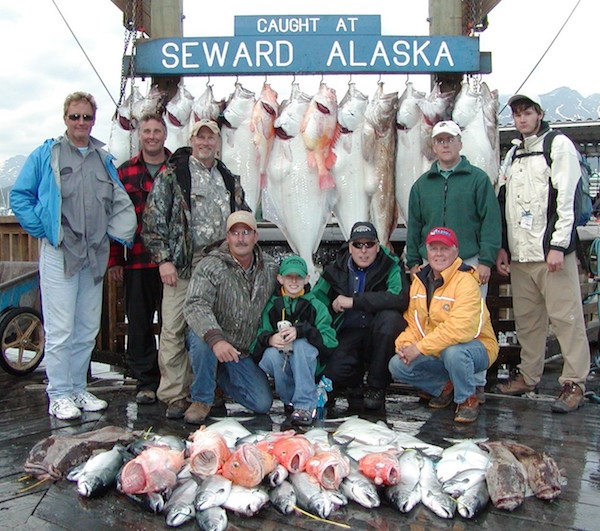 Halibut Fishing
It's not very often you hear someone talk about Alaska without mention of the delicious meal they ate or the giant flatfish they caught all centered around that ugly but such good-tasting fish called Halibut. These monarchs of the sea life near the bottom and migrate into Cook inlet and other surrounding waters during the summer. The Kenai Peninsula happens to be in the epicenter of halibut fishing. Great fishing can be found out of Seward, but it is Homer and Cook Inlet that happens to be the Halibut holy grail. In these two areas fish are found much closer to the harbor than others and in greater numbers.

Our Captains have been chasing these fish since they were old enough to walk, they have the spots dialed and know exactly which one to hit on any given day tide or weather. Big comfortable boats that seat 6 persons are all equipped with top-of-the-line gear. They love what they do and it shows, getting you out and back from the grounds safely and filling those fish boxes with tender flaky white fillets of Halibut.
Steelhead Fishing
Steelhead (Oncorhynchus mykiss) are often an overlooked fishery here on the Peninsula but are some of the most exciting gamefish to chase during the fall. Steelhead, in essence, a sea-run Rainbow Trout is a fish that fuels obsessions in the Pacific Northwest. Running from the ocean into countless rivers and streams from California to Alaska these fish are sought after by many anglers from around the world. These elusive fish tend to run at times when the weather is at its worst, most cartoon captions portray anglers sitting out in the rain for countless hours just to get one bite. This fish plays a very important role as to why I am here in Alaska today. It was this obsession that led me to chase salmon in Alaska.
The Kenai Peninsula has three streams that support most of the steelhead fishing activity, while they are found in a few others and even on occasion in the Kenai, it is the Anchor, Deep Creek, and Kasilof Rivers that support much of the angling effort during the fall run. Starting in early September and peaking toward the first part of October these fish start entering the systems. Our runs are small in numbers but the habitat that they are found in all but make up for that. Very few places can you chase 20-40" fish in a stream not even as wide as a car lane. Hidden in small riffles, pools and behind heavy cover make for a challenging experience just to hook, let alone land a dime bright explosive fish, add the beautiful yellows and red fall colors and you have a setting like none other to fish in. Many anglers choose to chase these fish on their own due to the easy accessibility of the streams, especially those streams farther to the south of us. The Kasilof however, is best suited to using dirt boats to access the upper areas of the river.
Any river you choose, however, are ones that we are very versed in and have fished for years. Traditional pools do not change much from time to time and usually look and feel much like they did years prior, but it's those little riffles and small slots that many anglers will just walk on by that can be the difference between and nice day and an epic day. That's where your guide comes into play. Knowing how to read the water and what might possibly hold a fish that has not been caught yet is the key to fishing these highly pressured streams.
Methods range from light spin tackle to fly rods, whichever you choose as your weapon of choice you'll be sure to have a blast. Call or email us today for more info on a really fun fishery that just happens to coincide with incredible Silver fishing on the rivers and hot King Salmon in the Saltwater.
Other Items of Importance
One of the most frequently asked questions we receive is "what do we need to bring". While we provided everything needed for fishing while you are staying with us, such as rods reels, and tackle, there are some basics that any traveler to Alaska should be prepared with. The first and foremost is to be prepared for rain, a good quality rain jacket and pants are a must for any traveler, of course, we all hope you never have to use it but when you do you will be glad you have a comfortable set. Everyone is different as to how they dress for different temperatures but dressing in layers is key. There is plenty of dry storage on all of our boats that will store anything that one might take off or put on during the day. Temperatures range from cool and raining in the lower 40's to sunny and warm in the mid 60's basically all summer long. As we stretch into October and even at times in September temps and can and often do start out below freezing first thing in the morning. I can predict the weather just about as good as the weatherman but if you always bring just a few more times than you think you will need, my guess is that you will be more than happy you did so.
Next in line is food and drink, Soldotna and Kenai are full-service little communities with all the amenities of home making it easy for one to drop in a store and load up on all the goodies and drinks they might want during the day, alcohol is welcome in moderation, drugs of any type are not.
A camera is usually something that everyone traveling is already carrying, while we encourage you to bring all types of gear a good little pocket-sized camera that is always easily accessible in any type of weather is best. We want you to capture all the great moments of fishing be it the caribou crossing the river or the heat of the battle and often these pocket-size cameras are easiest for anyone to point and shoot the moment for you.
Last but not least is your fishing license and King Salmon stamp if applicable valid for the days you are fishing. These will be required to be shown to your guide/captain before the trip begins so that they can fill out their state-issued logbooks. Easily obtainable at virtually every store and gas station in town or along the road as well as online. There are various links here on the website to assist you with this. If you have any questions as to which license or stamps are needed please ask anytime.
Safety and enjoyment are our first priorities here at ACE Fishing Adventures. Our boats are equipped with the latest and most up-to-date safety and first aid equipment. Everyone is certified in first aid and CPR, however, we are not doctors so please provide us with any pertinent medical information you may have, either when you first climb aboard or via email prior to arrival.
Using this guide as a starting point in your preparation please always remember we are here to help and any questions you have along the way give us a call or email, we are more than happy to help in any way we can.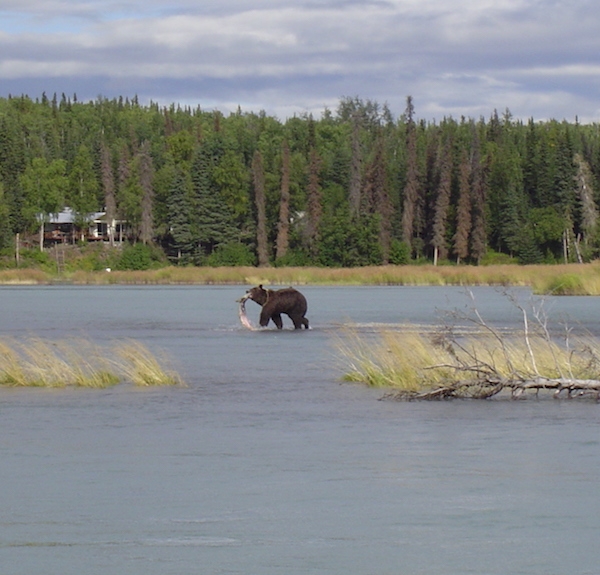 Our Eco Tours
A fishing destination at foremost Alaska has a million other great things to do while you are here. The Kenai sits directly in the middle of some of nature's most cherished treasures. From hiking to white water rafting the opportunities are endless all year long. There are many great companies offering all types of trips that do not solely revolve around fishing. Be it for those traveling with you that do not want to head out fishing or just utilizing one of your days off between trips there are all sorts of options to go out and expense the great land.
Giant Brown Bears feeding on Salmon at a falls or out in the grasses of the coast, mountain biking across the Chugach range, kayaking amount sea otters and whales you name it we know how to get you there. Our network is vast ranging from all over the Kenai Peninsula and can find just the right fit for anything you want to see or do, be it by dog team or plane let us help you add a unique experience to your Alaskan vacation today
Our Boats
We are proud of the fleet of boats that we have assembled here on the Kenai Peninsula, for those that have fished with us over the years you know many of the boats that we have had in the fleet. I can not say for certain that we will ever be 100% satisfied with each boat, but I am pretty confident that we are as close as we ever will be today. Our comfortable drift boats are equipped with level front and rear floors creating an excellent platform to fish from no matter what time of year of species we are chasing.
We have had a number of custom-built Willies over the years but the guys down in Central Point really outdid themselves when they built us our latest super-wide Fusion. Taking the trial and error of previous boats we have equipped this boat with all the tools needed but with the fewest things possible to hang up and catch fly lines or nets. Offering pedestal seats and lots of storage this super-wide has the most stable fishing platform on the river today. We can easily fish 4 anglers side drifting without ever listing the boat, and she glides across the water making for the smoothest ride in the heat of July. Often the saying goes less is more but it couldn't be any more true with this beauty while at the same time not a single feature had been overlooked when we built her. Willie Boats…" Simply the best" paired with ACE Fishing Adventures make for a great team on the water.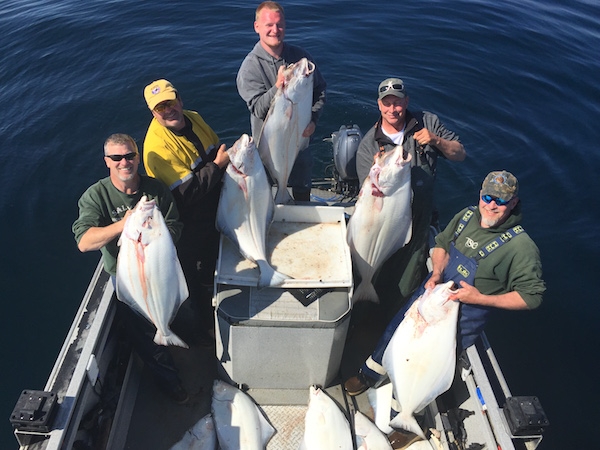 Planning Your Fishing Adventure
Halibut - $350
Long Range Multi-Species - $450
Call or email for current lodging and fly out rates
All trip prices are per person and subject to availability
Trips include all top of the line equipment and tackle needed for fishing
Complimentary fish cleaning and preparation for the fish processor
50% deposit is due upon booking, the remaining balance is due 10 days prior to embarking on our first trip together
ACE Fishing Adventures does not offer a cancellation policy but you are able to rebook for any available date the following year.
There are many great ways to reach the Kenai. One of the most popular is to fly via the frequent and daily commuter flights from Anchorage's International Airport. A person is able to fly right into the City of Kenai, for about the same price as a rental car from Anchorage. Anchorage is a beautiful city centrally located halfway between the Kenai and Denali National Park.
If you choose to rent a car or RV from Anchorage you are truly rewarded with one of the most awe-inspiring and beautiful scenic drives around. Along your journey to the Kenai, you will travel south along the Seward Highway where you will want to keep a watchful eye out for Moose, Dall Sheep, the occasional Black or Brown Bear, and Beluga Whale along Turnagain Arm. The City of Soldotna and Kenai is about two and a half hours from Anchorage with an absolutely beautiful drive.