About ACE Fishing Adventures
Welcome and thank you for your interest in ACE Fishing Adventures. My family Shawna, Tait, Evelyn, Clayton, and I, Aaron Cooper, would like to welcome you to Aaron Cooper's Extreme Fishing Adventures LLC. Together as a family we have set out to provide the best available fishing charter business on the Kenai Peninsula. From the begging it was our goal to make a business that caters our fishing charters and packages to suit your specific needs. We know that each family and vacation is different and by not having a set schedule we are able to help custom build the perfect Alaska fishing experience that you will be sure to enjoy. We continue to conduct business this way so that we are able to help you plan a vacation to suit your needs and not our own. We strive to make every day you spend on the water with us or on the peninsula with someone of our recommendation the very best possible. It is not cheap to go on vacation and especially to Alaska in the summer. For this reason we will not, and have not endorsed or set anyone up with a business that we wouldn't put our own family with. It is because of this you can be guaranteed that everything we do will be custom tailored to only your desires.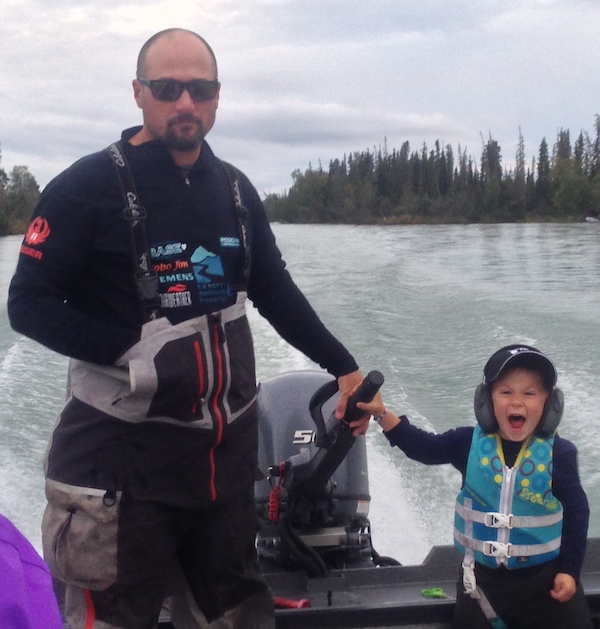 From the Clearwater to Alaska
I grew up in the southeast corner of Idaho; hunting, fishing, skiing, and everything else that I could do in the outdoors. While attending college at the University of Idaho, Idaho State University, and the University of Nevada Las Vegas, every chance that I had between studying was spent in the filed. I also guided and worked in the fly shop for Montana River Outfitters on the Missouri River out of Wolf Creek Montana, fly fishing for the rivers famous rising trout. Fly fishing has been one of my true passions since I was old enough to stand, and fly fishing for rising trout especially. However, nothing has rivaled the kindled spirit I have quite as much as fishing for Salmon and Steelhead. After college I spent a winter in New Zealand traveling the country and fishing at every opportunity I had.
Upon my return from New Zealand steelhead season was just begging in Idaho, at which time I made sure to hit every fishing hole along the greater Salmon and Clearwater watersheds. Without having my fill of fishing for these elusive anadromous species I decided to find a job in Alaska, another state that I had fished on occasion prior and could not wait to get back to once again. I applied at one of the finest lodges on the Kenai River and within the month I found myself driving the Alaskan highway with Shawna, whom I had met years earlier while attending Idaho State University. It was here at this lodge that I was introduced with the river that I am so found of today, the Kenai. I was trained by some of the most experienced and finest fisherman on the water, and like to think that I also have brought with me some of my own tricks to fool these huge salmon that thrive in the Kenai River system. You may have even seen me during this time as I appeared on an episode of Let's Go Fishing!
It was also during this time period that I attended AVTEC in Seward Alaska, one of the most revered marine training facilities in the US. I studied for a spring semester in order to attain my US Coast Guard Master of Motor Vessels, or for short my USCG Captain's license. As well, I also hold a current and yearly First Aid/CPR and infant CPR card, along with all of the other mandatory licensing and insurance requirements for local, state, and federal entities.

After a couple of years at the lodge and with the influence of many of my past clients and friends I decided to take the leap and go into the industry for myself. It was at that moment that ACE Fishing Adventures was conceived. In the early years our operation primarily focused on fishing the Kenai and Kasilof rivers along with a few stints in the Bristol Bay region, primarily fishing its famed Trout waters and the Nushagak river for King Salmon.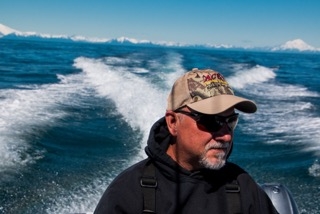 Captain Mark Pixton
Mark was born and raised in Idaho where he spent his life pursuing big game animals in the Rocky Mountains, and fishing the many different rivers and lakes located in Idaho, Montana, Utah and Wyoming. If you cannot find him on a mountain or on the water then there is a good chance he is not far from a waterfowl blind shooting at Canada geese and greenhead mallards.
Mark spent ten years guiding anglers in the Yellowstone basin, working directly in the Yellowstone National park, and the world famous Henry's fork river in Idaho, and the Madison river in Montana. Mark has for years tied custom flies and built custom rods for clients in the Inter-mountain West. The last five years he has tuned his skills by becoming an avid fisherman for striper and small mouth bass on the famous Lake Powell reservoir in southern Utah.

Mark received his B.S. in Business education From Idaho State University in 1991 and then he received his Master Degree in Master of Education with and Educational Administration emphasis. Mark spent the last twenty years teaching economics and a career class in the local High Schools is currently a Middle school Assistant Principal and Athletic director.
Mark enjoys spending time with his mother, wife Sonya and family and when his daughter and son come home from college they will also be found chasing fish in some region of the United States, where in an average year he will log over 400 hours on the water captaining boats. Mark's favorite saying when he was raising his kids and today as he works with students, "when it is time to work, work hard. When it is time to play, play hard."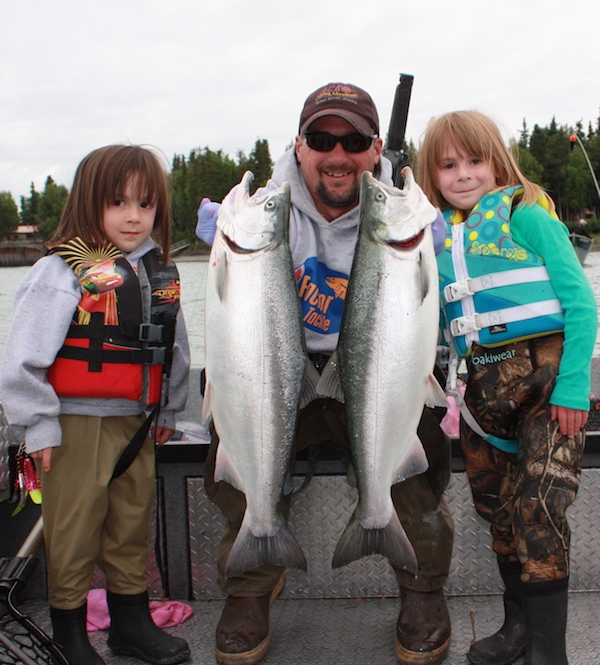 Ready To Fish With ACE Fishing?
ACE Fishing Adventures has since evolved into a year-round operation focusing on all the fantastic fishing the Kenai Peninsula has to offer, from year-round King Salmon in Homer, summer halibut fishing on the Kenai Penninsula, incredible Silver Salmon fishing in Resurrection Bay out of Seward in July to of course our first love, the Salmon and Trout of the Kenai and Kasilof rivers. It truly is a dream come true doing what I love, watching a new friend's face while hooking into a salmon for their first or fiftieth time, or just simply watching the sunrise over the Kenai Mountains. I have always believed that you get what you pay for, and along with my guide service, my equipment is nothing but the finest the industry has to offer. I only use the best quality equipment on the market today, even if that means paying the extra buck for it, but in the long run, you and I will both be happier it is the chosen equipment on board.
I appreciate you taking the time to learn a little more about my family, myself, and my operation and I thank you again for your interest in ACE Fishing Adventures. I look forward to the possibility of helping you plan your dream fishing vacation to Alaska, we will see you in the boat this summer.

Aaron Cooper
Owner/Guide
Aaron Cooper Extreme Fishing Adventures, LLC