Alaska Fishing Calendar - Kenai Fishing Seasons
Wondering when the best time to fish for silver and sockeye salmon on the Kenai in Alaska?
The silver or coho salmon fishing heats up in late July and August on the Kenai. Red, or sockeye, salmon fishing starts in June and can run through August. There are many other species to target throughout the fall and summer like rainbow trout and dolly varden so contact us about planning your Kenai River Fishing Adventure!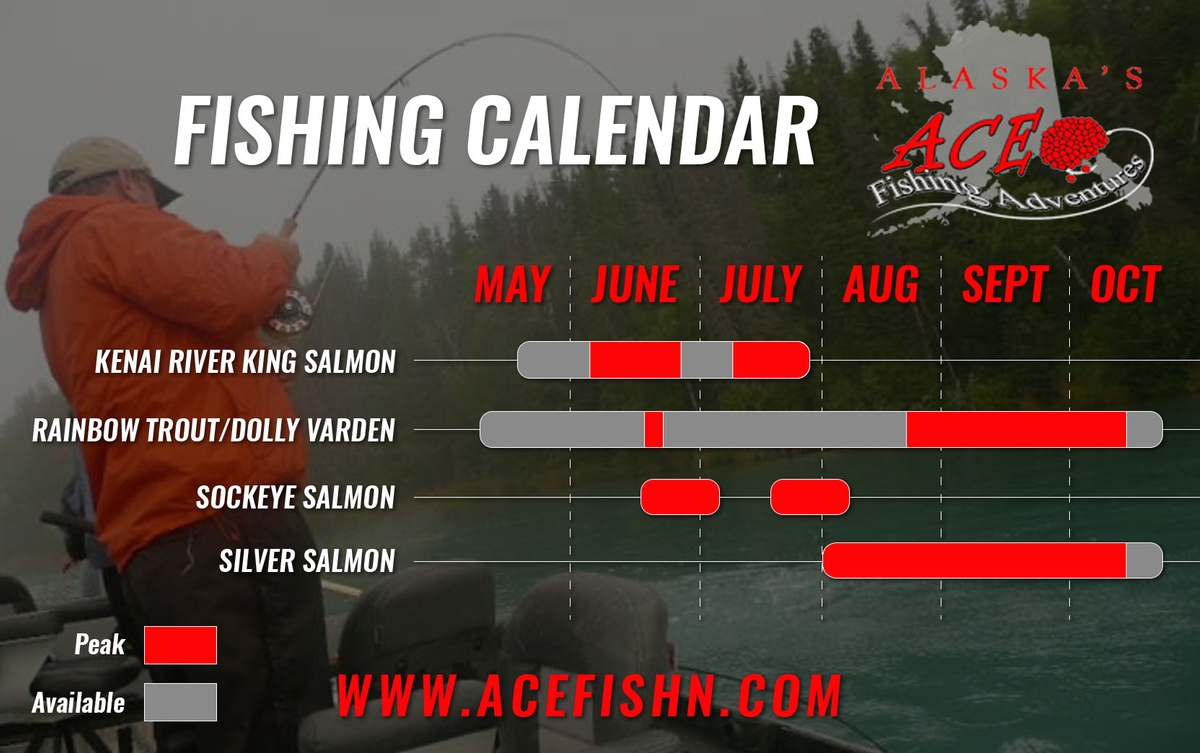 MAY
King Salmon - King Salmon start entering the rivers mid-May and are readily available in the saltwater
Rainbow Trout/Dolly Varden – Kenai River below Dot's Landing (By Request Only)
Halibut – Homer, Seward and Cook Inlet Ocean Fishing
Halibut Combo in Cook inlet for King Salmon and Halibut is at its peak! The best fishing in May and early June hands down
JUNE
King Salmon – Kasilof and Kenai are both fishing very well for King Salmon
Trout/Dolly Varden – Upper and Middle Kenai River (Starting June 11th), Below Dot's Landing (Prior to June 11th)
Sockeye Salmon – Upper Kenai River at Russian River Confluence, Kasilof fishing well towards the end of the month
Halibut – Homer, Seward and Cook Inlet Ocean Fishing
JULY
King Salmon – Peak run timing for Kenai and Kasilof second run King Salmon
Rainbow Trout and Dolly Vardon start fishing very well towards the end of the month when the bulk of the sockeye move upriver
Sockeye Salmon – Kenai River, Kasilof River, and Russian River, peak run timing for the major rivers are mid-month through the end of the month
Halibut Fishing Cook Inlet - Produces very well
Ling Cod season opens July 1st fishing out Homer, Seward, and Whittier
Rock Fish Yellow Eye, and Sea Bass – Homer, Seward, and Whittier
AUGUST
Rainbow Trout/ Dolly Varden – Upper, Middle, and Lower Kenai River peak timing
Silver Salmon – Kenai River or Kasilof River
Sockeye Salmon – Upper and Middle Kenai River
Halibut, Ling Cod, Yellow Eye, and Sea Bass – Homer, Seward or Cook Inlet Ocean Fishing
SEPTEMBER
Rainbow Trout/ Dolly Varden – Upper and Middle Kenai River at its best
Silver Salmon – Kenai River or Kasilof River
Halibut, Ling Cod, Yellow Eye, and Sea Bass – Soldotna, Homer, Seward or Cook Inlet Ocean Fishing
Steelhead start peaking towards the end of the month in the Anchor, Deep Creek, Ninilchik, and Kasilof
OCTOBER
Rainbow Trout/ Dolly Varden – Upper and Middle Kenai River
Silver Salmon – Kenai River
Steelhead peak in the rivers to the south of us, Anchor River, Deep Creek, Ninilchik, and Kasilof